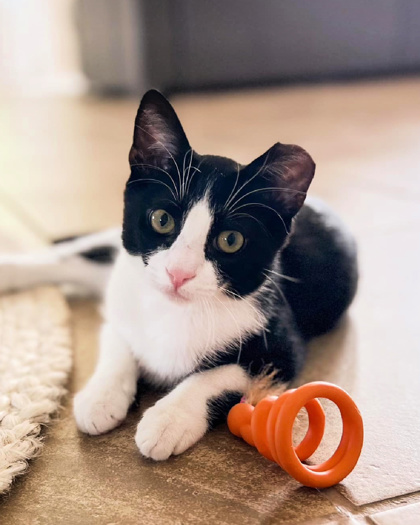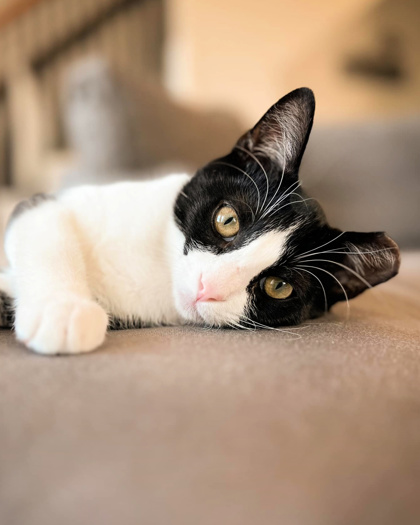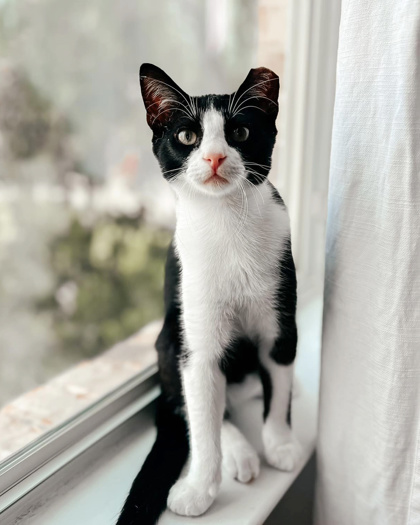 Click on images to enlarge
Greetings, I'm Max or Prince Maximus as my foster mom likes to call me. I'm a sweet, happy, and cuddly little guy because I can't believe my good fortune! I was born on the streets and when I was a couple months old, my foster mom came along and rescued my sister Charlotte and me. I was actually supposed to be a "trap neuter release" kitten (hence the ear tip) but I told my foster mom I didn't want to go back outside, showed her how sweet I was, and the rest is history! She says that I'm a prince now. I have to say, I'm a big fan of indoor cat life. When I'm worn out from playing with my sister, I love to curl up on the couch with my foster mom. I also like to follow her around and I love it when she picks me up and gives me lots of kisses. I'm a very well behaved boy and all I need is a ball to play with and I'm happy! I'm also very quiet and sometimes I try to meow but nothing comes out. My litter box etiquette is purrfect and I'm learning that I love scratching boxes and posts. You should know that I love my sister Charlotte very much so we are a package deal. We love to play and cuddle and it's my job to protect her. If you choose to adopt me I will do best in a house where she can come along too. After all, two kittens are always better than one! ASK ABOUT SPECIAL PRICING FOR THE TWO OF US!
Are you interested in adopting me?
**Because we require home visits, we only adopt locally to the Dallas/Fort Worth area. For more on adoption policies, please see the How It Works page of our website, www.habitat4paws.org.