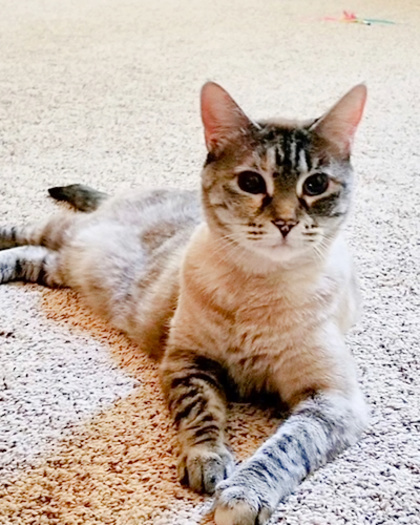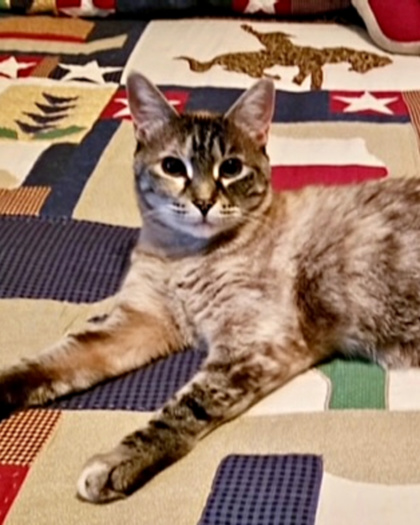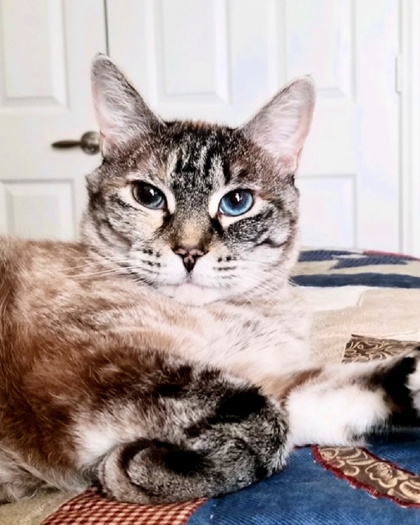 Click on images to enlarge
Greetings! Allow me to introduce myself - I go by the enchanting name of Winter. At 8 years young, I'm a delightful blend of Siamese and Tabby, a true feline masterpiece with dazzling blue eyes. My disposition is as cool as a gentle breeze on a summer day. All I truly desire is to bask in your presence, soaking up your affection through pets and tender scratches. Yet, should you dangle a mesmerizing string toy or a feathered wand, I might just be persuaded to engage in some delightful playtime. And oh, there's a secret I must share: nothing warms my heart more than snuggling up beside my beloved human on their soft bed.In the realm of living arrangements, I've discovered that being the sole recipient of your love and devotion is my preferred lifestyle. I find myself dwelling in a foster home where I am the solitary feline monarch, and truth be told, it suits me splendidly.Behold my impeccable habits - the litter box is my domain, and the scratching post, my personal realm. I maintain a regal diet of special dry nourishment, meticulously selected to ensure my well-being and happiness.Now, my dearest hope is to uncover a forever family, one that will cherish me throughout the tapestry of life's days. In return, I pledge a heart brimming with affection and devotion, a symphony of love to serenade you with.Could you perhaps be intrigued by the notion of inviting a refined feline such as myself into your world? Without a shadow of a doubt, I believe I am the embodiment of the word "purr-fect," a four-legged marvel ready to grace your existence. If the notion strikes your fancy, why not take a moment to complete an application? A grand chapter of companionship could be waiting just around the corner!
Are you interested in adopting me?
**Because we require home visits, we only adopt locally to the Dallas/Fort Worth area. For more on adoption policies, please see the How It Works page of our website, www.habitat4paws.org.