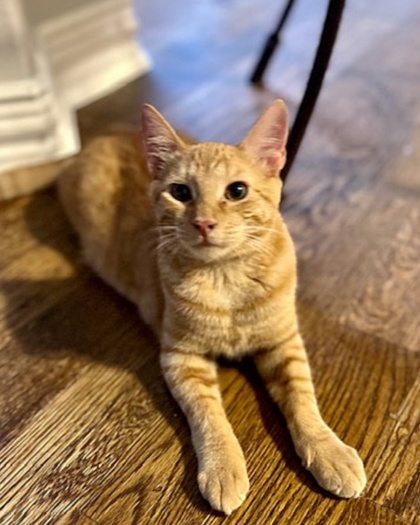 Click on images to enlarge
Are you ready to welcome an adorable, ginger fluff of delight and cuddles into your life? Look no further than Denver, a charming feline who's ready to become the newest member of your family! Denver's sweetness is undeniable. His gentle disposition and warm personality make him a true delight to be around. He'll melt your heart with his endearing nature. Denver is not just a sweetheart; he's also a responsible kitty! His litter box manners are impeccable, ensuring a clean and tidy living space. Denver is currently residing with his foster family, which has 2 teenagers, a fluffy senior dog and his biological sister, Aspen. Denver hasn't met anyone younger than teens, but his foster mom thinks he would be a purr-fect companion for humans of any age. Although his exact birthday is not known, the vet estimates he made his way into the world in May of this year. Don't miss the opportunity to add this absolutely delightful sweetheart to your family!
Are you interested in adopting me?
**Because we require home visits, we only adopt locally to the Dallas/Fort Worth area. For more on adoption policies, please see the How It Works page of our website, www.habitat4paws.org.