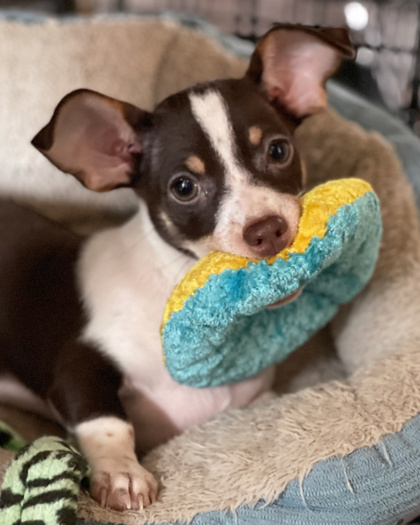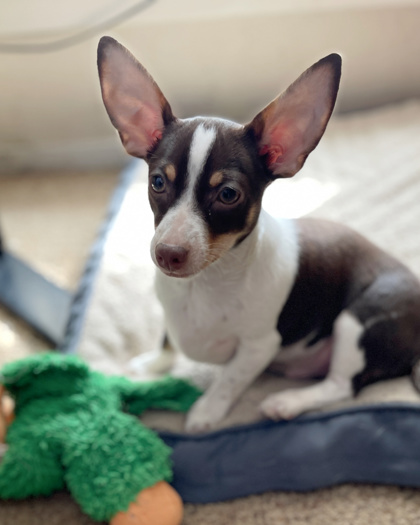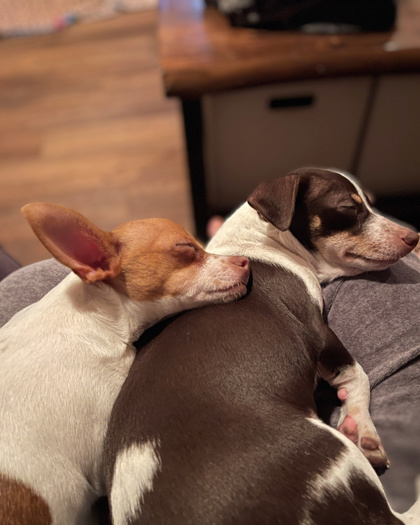 Click on images to enlarge
I'm Twix and am ready for a home of my own. I am almost 6 months old and weigh just over 6 pounds. My brother Rolo and I were the only two puppies born to our chihuahua mom and we are like peas in a pod! We both love to run, play chase, and chew on toys. We are very submissive and used to dogs of all sizes in our foster home. We are pretty much joined at the hip and while it's not necessary to adopt us together, it sure would be fun to be forever with my brother. We are working on house training and will use a puppy pee pad in our pen, but we still need to learn how to alert you that we need to go outside. So please be patient knowing that we may have a few accidents at first, but we are both smart and will get it! We are crate trained overnight and the crate door stays open during the day. We are often found napping in the crate during the day after playing. We love lap time in the evenings with our foster parents. I am super sweet, and am almost always seen carrying a toy around in my mouth. Like my brother, I like to be where you are, am curious, affectionate and always entertaining!
Are you interested in adopting me?
**Because we require home visits, we only adopt locally to the Dallas/Fort Worth area. For more on adoption policies, please see the How It Works page of our website, www.habitat4paws.org.
Chihuahua, Short Coat/Mix