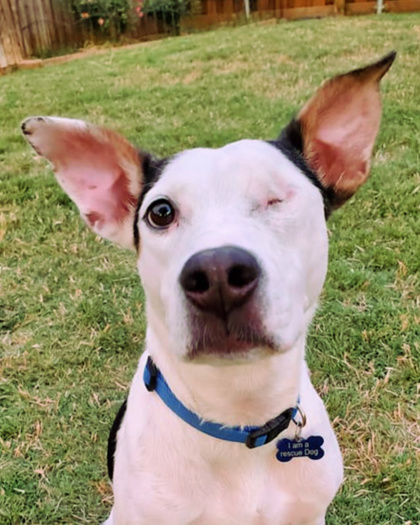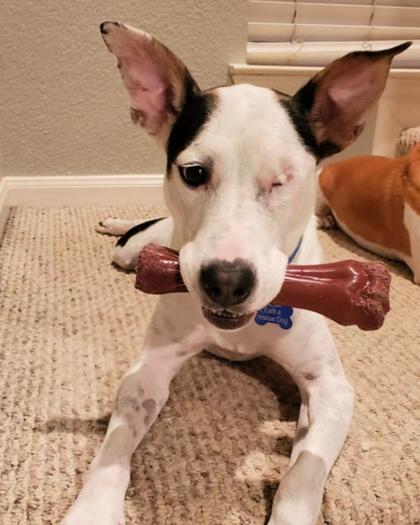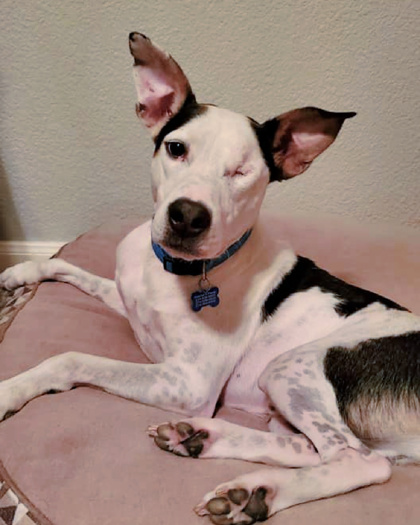 Click on images to enlarge
Hi, I'm Lewis (Lewie) and I've been told that I'm stinkin' cute! I am about 3 years old and probably a Bull Terrier mix. I am a good mixture of everything you could ever want in a dog. I love all people (young or old) and all dogs and I ignore cats (unless they go running through the house and I am feeling playful. I can be your typical lap dog, a running partner, a couch potato, a playful pup for your playful pup or just a shadow that follows you around. In other words, I am happy to do whatever it is you want me to do and I go with the flow of my house. I love to chew bones and play with toys. I have been living without a crate but I am ok in a crate too. I will let you know every once in a while, that I should be out of the crate. I am potty trained. As you can see, I'm winking at you.... My eye was hurting me so I wanted it taken out. But don't worry, it hasn't slowed me down at all. I do have one issue that you need to know about. I have Idiopathic Epilepsy, which means I have seizures at times for no reason. But the nice people at Habitat 4 Paws took me to the neurologist and she said "I have just the medicine to help prevent those seizures." As of this point, I haven't had a seizure since February! Isn't that exciting? I will need to stay on my medicine for the rest of my life but that is ok. Even with my medical challenges, I know there is a family that will adore me if they give me a chance. My foster mom says that I am a fabulous dog that needs a special family to love me the rest of my days. There is a whole world out there that I want to explore. Wanna come with me?
Are you interested in adopting me?
Fill Out an Adoption Form
**Because we require home visits, we only adopt locally to the Dallas/Fort Worth area. For more on adoption policies, please see the How It Works page of our website, www.habitat4paws.org.