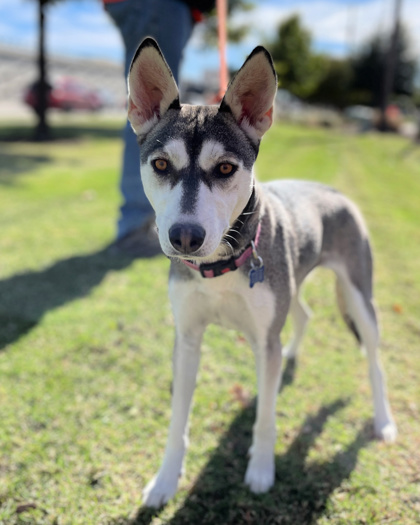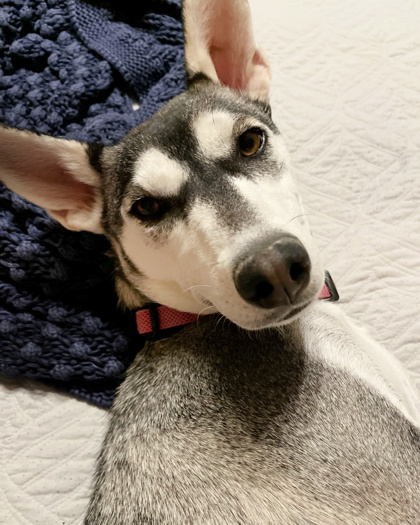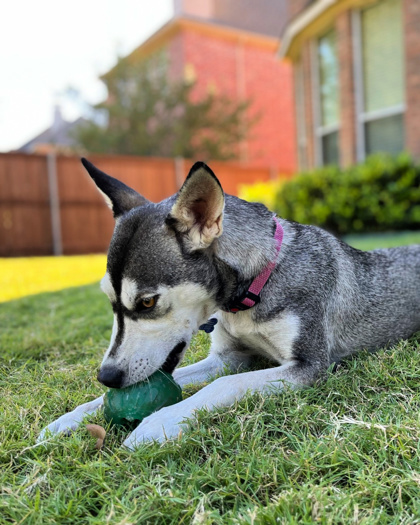 Click on images to enlarge
A petite husky mix, Iris' favorite place to be is by your side. Her foster mom describes her as joyful, loving, and surprisingly calm for a 1-year-old. Iris' indoor manners are perfect - no accidents, no destructive chewing, and no counter surfing. She doesn't even get onto the couch to snuggle with you unless invited. But once she's up next to you, she's in cuddle heaven.Iris and her foster sister enjoy running around the house and backyard playing with each other. She's gentle with her older sibling - and submissive to her. Iris also likes a good game of catch if you happen to have a ball. Nylabones are her favorite chew toy. She is very people-friendly and greets visitors with a tail wag. In minutes, they're best friends.A smart girl, Iris already knows to sit and shake. Plus, she quietly spends the night in her kennel at night, but she'd really rather sleep with you.Like most young dogs, Iris will need regular exercise to keep her on her best behavior. She has a strong prey drive, so homes with cats or other small pets are not recommended.
Are you interested in adopting me?
Fill Out an Adoption Form
**Because we require home visits, we only adopt locally to the Dallas/Fort Worth area. For more on adoption policies, please see the How It Works page of our website, www.habitat4paws.org.