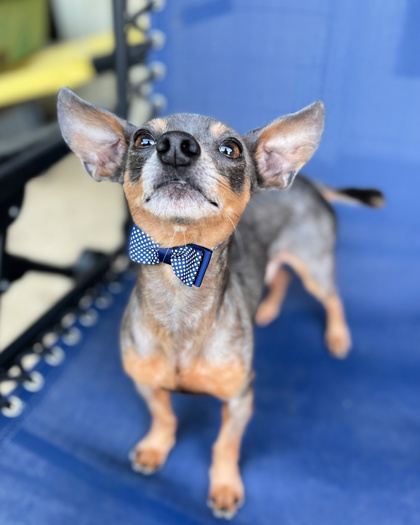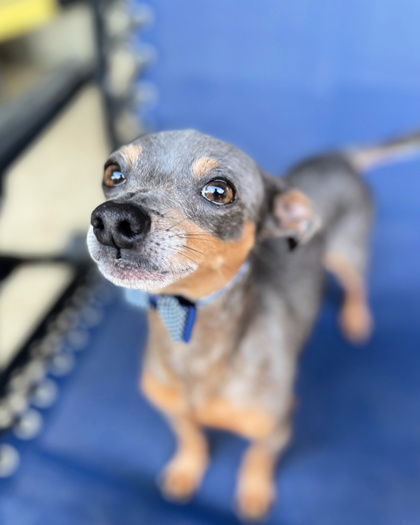 Click on images to enlarge
How about something super sweet without the calories? That would be me, Brownie! A lot of people may want to adopt me because I'm so cute, but know that the perfect family for me is one that will be patient and give me time to warm up to new people and surroundings. I'm shy at first and as much as you will want to cuddle me, I am going to need a little time to settle in and come around on my own time. Once I do, though, you will love all of my great traits! I am 7 pounds and about two years old. I am an excellent office assistant if you work from home and a great lap warmer, too. I am looking for my special human(s) to bond tightly with. Your reward will be tons of Brownie kisses. Although shy at first, I get along with all the dogs in my foster home, ranging from another chi to a really big lab! So, I will be happy with the company of other dog(s) or happy as the only dog and having my humans all to myself. I can be playful and get the "zoomies" in the yard when I'm having a great time outside. I sleep quietly through the night in my crate, but have been known to sneak up on the human bed before bedtime hoping not to be seen. I appear to be house trained and walk well on the leash. I have not been around cats, but my foster mom doesn't think I will have issues with that. Because I am so small, I should be in a home with slightly older children who will be respectful of my size. I hope you will consider meeting me. I can't wait!
Are you interested in adopting me?
Fill Out an Adoption Form
**Because we require home visits, we only adopt locally to the Dallas/Fort Worth area. For more on adoption policies, please see the How It Works page of our website, www.habitat4paws.org.
Chihuahua, Short Coat/Mix