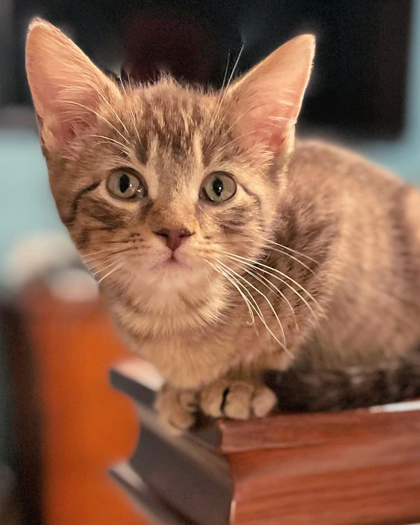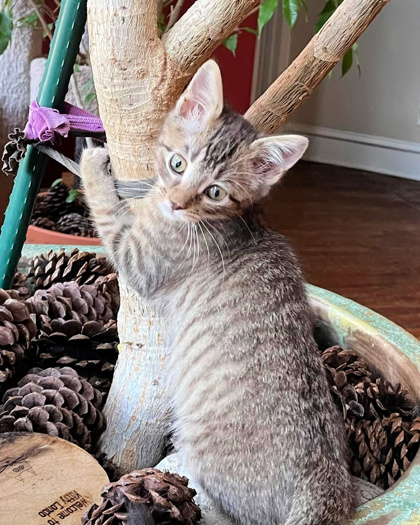 Click on images to enlarge
Hey there, I'm Wally, an adorable tabby kitten who is in need of a loving forever home!I am the only survivor of my litter. My siblings and I were very sick with no mama to be found, but the efforts of my foster family and my determination to live pulled me through. My foster family fed me with a syringe and then a bottle until I was ready for regular kitten food.I was born around late May, so I am definitely still a rambunctious kitten with tons of energy. I play, chase, wrestle, climb and attack anything until I'm worn out and then I find a sunny spot for a nap.Since I had so much care and attention from humans when I was a newborn, I really love my people. I prefer to nap on somebody's lap and I follow my people around the house to see what they're doing. I also really enjoy sitting on my humans shoulder so I can see what's happening. Sometimes I give them little love nibbles on their ear, too. My litter box skills are great and I love my cat tree and cardboard scratchers for sharpening my claws. My foster family also trims my nails, but I'm still getting adjusted to that process.I'm pretty smart, too, and I am very highly food motivated. I could easily learn some tricks if you practice them with me and then I get a treat reward.I really love my foster feline siblings, so I'd love a home with another playful kitty. My foster family also has a dog, but she's scared of me so we don't get along right now. I really think I would love a playful pup just as much as another cat.
Are you interested in adopting me?
**Because we require home visits, we only adopt locally to the Dallas/Fort Worth area. For more on adoption policies, please see the How It Works page of our website, www.habitat4paws.org.