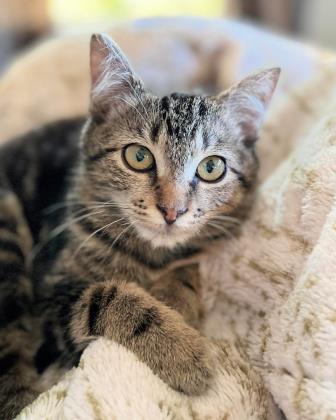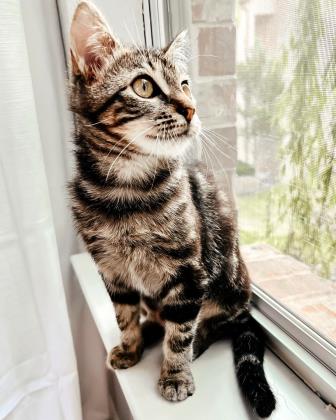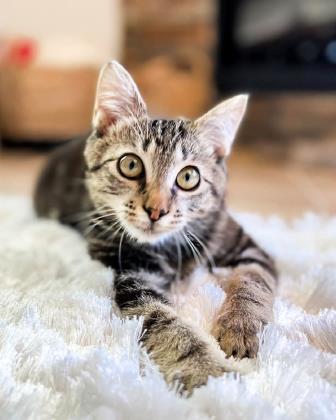 Click on images to enlarge
Hi I'm Tulip, a 7 month old kitten who loves life! I was found outside and life was pretty rough for me in the beginning but things are looking up! My favorite toy is a hair tie and my favorite spot is sleeping on my foster moms chest. I'm also very very smart and my foster mom taught me how to fetch! I can play this game for hours. According to her I'm the bravest and sweetest kitten she's ever met! I love to carry a conversation and have the squeakiest scratchiest little meow that you will adore. You will also love my beautiful stripes and unique leopard spots on my little belly. I do demand a lot of attention so having another cat to play with would be so much fun. I love my foster brothers very much and they teach me a lot, I just mimic them and do what they do! Im also great with dogs. I'm a champ with the litter box and scratching post too! I do eat special dry food that helps me to stay healthy, and it's okay for other cats in the house to be on it if you would like to make things simple! If you choose me I will be your best friend, hope you like to cuddle!
Are you interested in adopting me?
Fill Out an Adoption Form
**Because we require home visits, we only adopt locally to the Dallas/Fort Worth area. For more on adoption policies, please see the How It Works page of our website, www.habitat4paws.org.