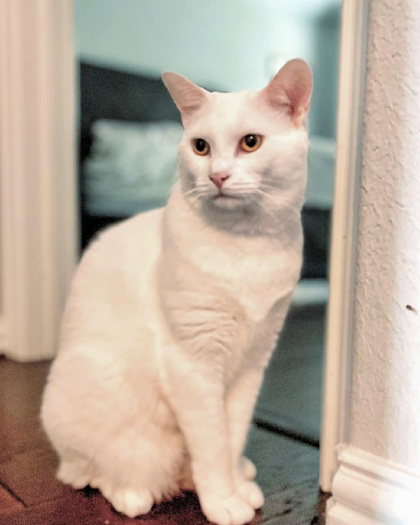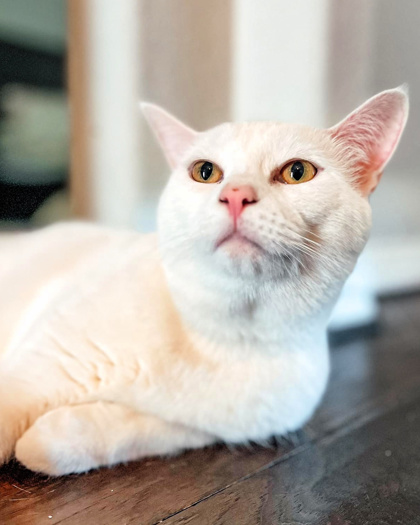 Click on images to enlarge
Greetings, fabulous folks! I go by the name Lucy, and I'm the epitome of feline finesse. Picture this: a stunning white cat so snuggly you'll want to wrap yourself in my purrific presence. I've got a mellow demeanor that's off the charts and my sweetness? Well, it's practically legendary. Now, don't mistake my laid-back vibes for laziness. Sure, I'm all about the chill life, but every now and then, I unleash my inner speed demon for a zoomie session that'll leave you in awe. It's like a surprise party for your entertainment! I was declawed in my past life but my biscuit makers are still flawless. But let's just take a moment to appreciate my sheer, unadulterated gorgeousness. I mean, have you seen me? It's like I walked right out of a cat supermodel magazine.Let me tell you a bit about my past: my brother, Linus, and I were adopted as adorable little kittens, but life took a quirky turn and our previous family couldn't keep up with our awesomeness. So here we are, on the hunt for our forever home once again. Now, wouldn't it be a blast if you adopted both of us? We're a dynamic duo bonded pair, having shared life's ups and downs since birth. Don't forget to check out Linus's bio, too - he's just as delightful as I am, but with an extra dose of energy. It's like getting a double scoop of happiness!I've got my litter box etiquette down and I've got that whole 'being a well-behaved kitty' thing nailed. I'm basically the feline companion dreams are made of - the purrfect addition to any home!
Are you interested in adopting me?
**Because we require home visits, we only adopt locally to the Dallas/Fort Worth area. For more on adoption policies, please see the How It Works page of our website, www.habitat4paws.org.