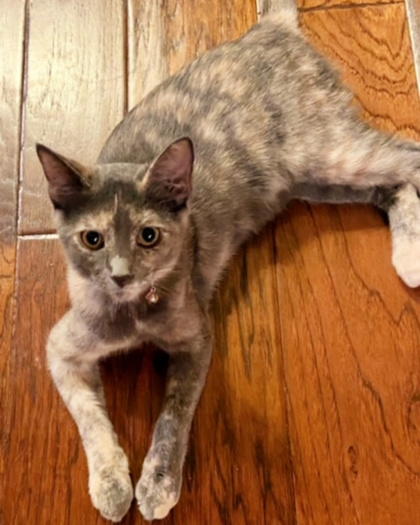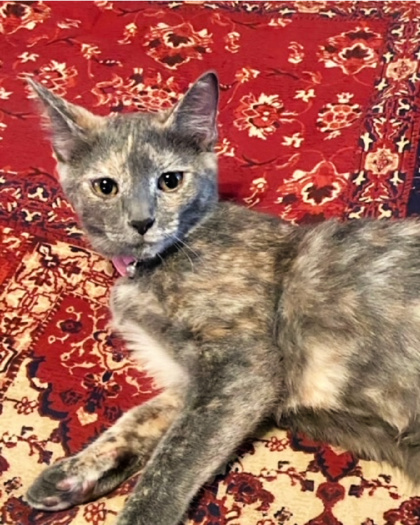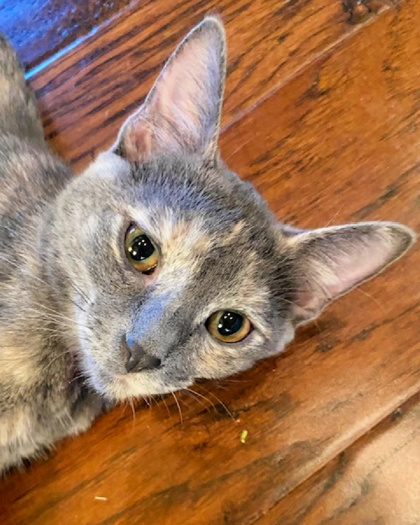 Click on images to enlarge
Salut! I'm Grace, and I'm the essence of feline elegance - a dilute tortoiseshell kitten with a dash of gold in my captivating eyes. Born in the lovely month of May, I'm a connoisseur of charming meows!You'll often find me cozied up next to my foster family, be it in a comfy chair or snuggled into their bed under the moon's gentle glow. I'm a social butterfly, and I relish every moment spent with them. Playtime is a must, and I'm quite the contender when it comes to wrestling with my foster siblings. As for toys, give me a feather wand, a string wand, crinkly foil balls, or dainty shaky mice, and I'll put on a show. In fact, I'm known to rummage through the toy basket, bringing out nearly all the treasures!My bathroom etiquette is impeccable, and I've got a knack for scratching in all the right places. Here's a delightful tidbit: when the siren song of the kitchen's ice dispenser calls, I come running in the hopes of catching a playful piece of crushed ice.If you're seeking a beautiful, cuddly, and purr-tastic kitten girl like me to be your lifelong companion, don't hesitate. Fill out an adoption application today, and let's embark on this feline adventure together!
Are you interested in adopting me?
**Because we require home visits, we only adopt locally to the Dallas/Fort Worth area. For more on adoption policies, please see the How It Works page of our website, www.habitat4paws.org.