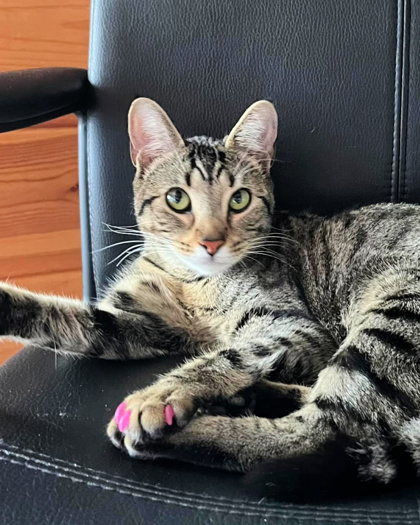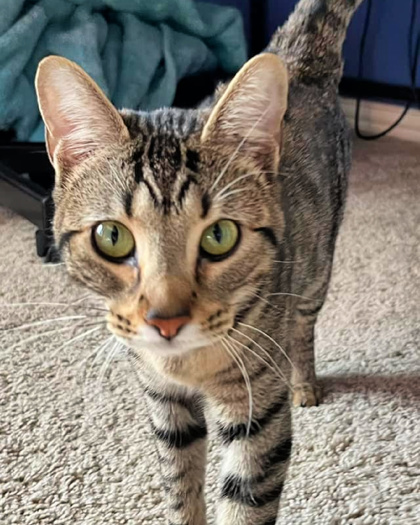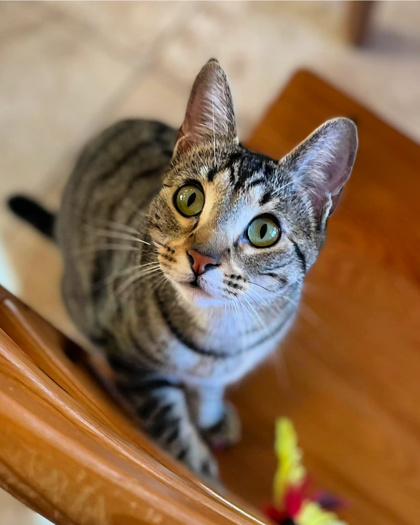 Click on images to enlarge
Hi kitty lovers! My name is Ellie, but my foster family calls me Bouncing Ellie. I can be quite the acrobat, bouncing off walls, balancing on railings and tiptoeing across headboards when I get the zoomies.My favorite thing in the whole world is leaping up to 5 feet in the air to catch that feather on a stick. I chase that thing until I am panting!When it's bedtime, my favorite place to sleep is at the head of your bed curled up next to your pillow. I'm learning to enjoy being picked up and cuddled, but I will certainly approach you for pets if you're sitting down.I play with the other cats in my foster home and I'm very curious about the dog, but she wants nothing to do with me. I'm sure I could bond with a dog who is willing to play with me.At about a year old, my litter box manners are on point and I use my scratching post. I don't mind (well, not too much) my nails being trimmed and I've had nail caps on in the past if that's something you want me to wear.I would love to come home with you so I can bounce off your walls!
Are you interested in adopting me?
Fill Out an Adoption Form
**Because we require home visits, we only adopt locally to the Dallas/Fort Worth area. For more on adoption policies, please see the How It Works page of our website, www.habitat4paws.org.