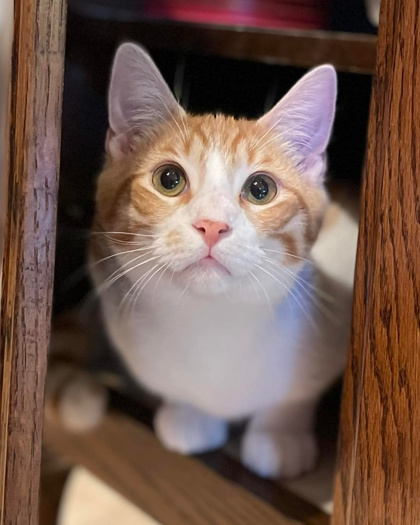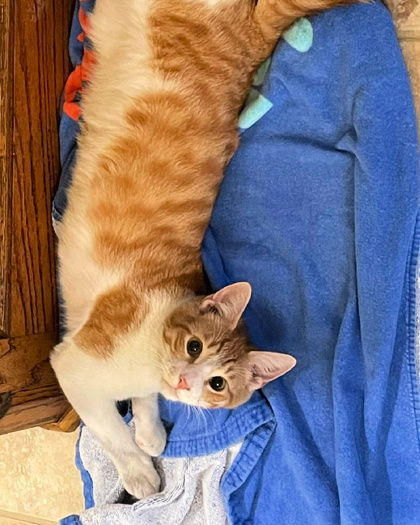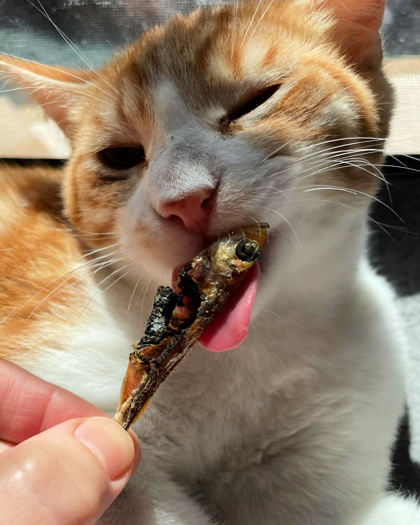 Click on images to enlarge
Hi there! My name is Dave and I am a spicy little fellow!My foster family doesn't know what happened to me the first few months of my life, but something must've scared me pretty badly. It's taken me awhile to get settled in my foster home, but I'm making great progress. I love to play with the resident cats and I even try to play with the big dog, so I'd make a great companion for the other critters in your home. I'm still trying to make up my mind about you humans, but I'm learning every day how nice y'all can be. I still sometimes hiss a bit when approached, but it's all a show. Once I get to know you and my surroundings, you'll be able to love on me while I purr. I adore laying in the sun in my window hammock or snoozing at the top of my cat tree. When I get the zoomies, I run around grunting and meowing. I can chase that feather-on-a-stick toy until I'm panting! When it's time for bed, I might jump up on your bed and settle down at your feet for awhile or I might snooze in my cat tree. I'm probably a little too much for really small humans, so any kids would have to be old enough to understand that I'm going to need my space in order to adjust to my new home.Are you willing to give me some space and time so I can have a great life with you?
Are you interested in adopting me?
**Because we require home visits, we only adopt locally to the Dallas/Fort Worth area. For more on adoption policies, please see the How It Works page of our website, www.habitat4paws.org.