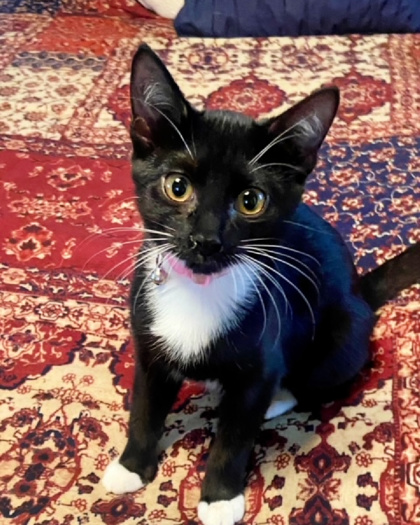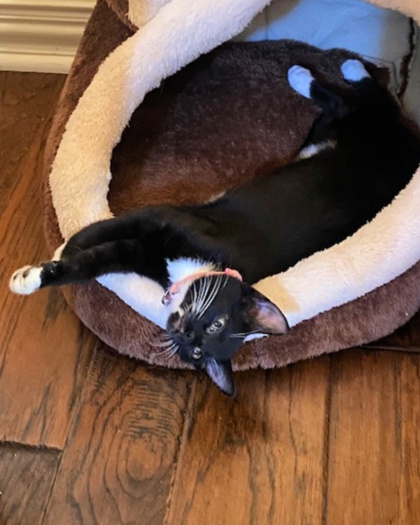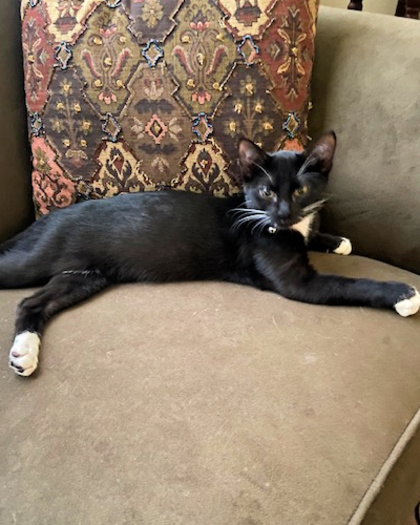 Click on images to enlarge
Greetings, dear friends! I go by the name of Allie, and I'm the exemplification of feline elegance - a tuxedo-clad petite kitten with gold eyes that twinkle like stars in the night sky. Born under the May sun, I boast four pristine white socks on my paws and possess the most enchanting meow in the realm. My foster mom affectionately calls me "Allie-cat."I thrive in the company of my foster family and can often be found nestled beside one of them in a cozy chair or sharing dreams on their bed beneath the moon's tender embrace. When you decide to lavish me with pets, I'm quick to respond with a hearty purr, a testament to the joy you bring me.Playtime is my forte, and I adore romping and wrestling with my fellow fosters and siblings. The world of kitten toys is my playground - feather wands, string wands, crinkly foil balls, and delicate shaky mice.My etiquette is impeccable, both in the litter box and at the scratching post. And here's a delightful tidbit: the siren call of the kitchen's ice dispenser summons me, as I hope for a playful piece of crushed ice to dance with.If you're in search of a beautiful, snuggle-loving, purring kitten girl like myself to be your lifelong companion, wait no longer. Fill out an adoption application today, and let's embark on this feline journey together!
Are you interested in adopting me?
**Because we require home visits, we only adopt locally to the Dallas/Fort Worth area. For more on adoption policies, please see the How It Works page of our website, www.habitat4paws.org.