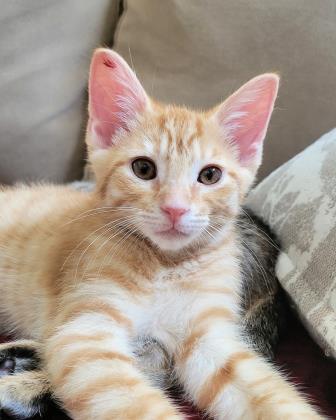 Click on images to enlarge
Hi humans! Rowan here. I am a loving, affectionate, cuddly kitten. I absolutely crave attention and love being picked up and held. I'm even learning that I can put my paws up on your leg to tell you that I want to be picked up. I also love lap time and often curl up in my foster mom's lap for a nap while she works or on the couch at night. At bedtime, I snuggle up as close as I can to my foster mom. There's really no such thing as too much together time in my book. I'm also a typical playful kitten who enjoys batting around toys and zooming around the house. I also like to play and wrestle with my brothers and sister here at my foster house. Like most kittens, I'd really do best in a home with another kitty companion and playmate. I'm perfect with the litterbox. Are you looking for a snuggly boy like me?
**Because we require home visits, we only adopt locally to the Dallas/Fort Worth area. For more on adoption policies, please see the How It Works page of our website, www.habitat4paws.org.