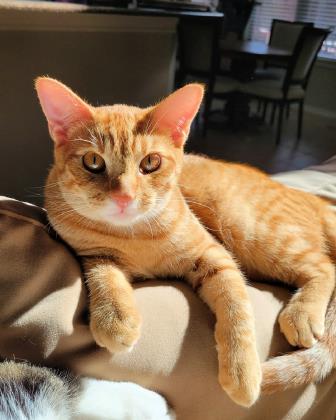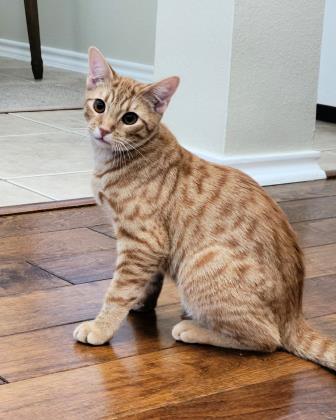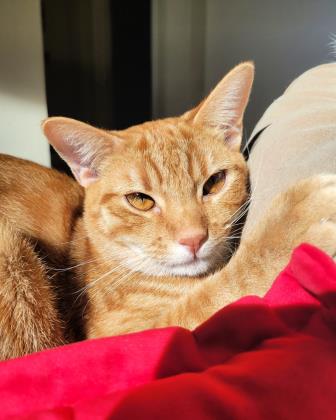 Click on images to enlarge
Hi, I'm Red, a cute orange tabby. I would make an amazing companion for another cat, as I absolutely love the adult cats here at my foster home. In fact, I cuddle every single day with the senior kitty who lives here and I've become his little shadow. He helps me to feel safe. I came into the care of Habitat 4 Paws as a feral kitten who was terrified of humans. I'm not that terrified kitten anymore and have made loads of progress getting socialized. I am also still continuing to improve every day. Still, I would do best in a quiet home and with someone who has the patience to help me build on my progress. I am not shy but loud noises or quick movements do startle me and I'll run and hide. I do really enjoy being petted and will happily purr for you. Every once in a while, I'll even sit on my foster mom's lap. If I'm walking by you, I'll flick my tail your way in the hopes of a nice scratch on the back. I really like playing with the wand toy with the humans and batting around other kitty toys. I also really like sitting on the window sill and watching the birds and squirrels outside. I'm trying really hard to learn how to only use the cat scratchers so I'll need plenty of those around. I do have perfect litterbox habits. I absolutely must go to a home that has another cat. No dogs or young kids would also be best for me because there would probably be too much commotion. I am not going to be the easiest kitty, it's true. But I am really a sweet boy who is deserving of a happy, safe home where I hope that I can continue to learn that humans are my friends. Please think about taking a chance on me!
**Because we require home visits, we only adopt locally to the Dallas/Fort Worth area. For more on adoption policies, please see the How It Works page of our website, www.habitat4paws.org.