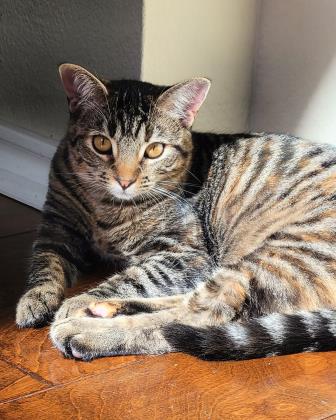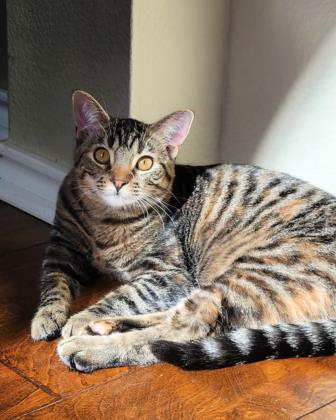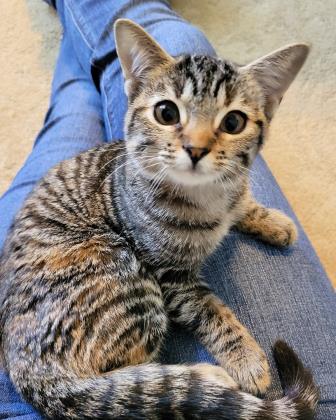 Click on images to enlarge
Hi, I'm Tabitha, but my foster parents call me Tabs. As you can see, I have the cutest little face with big round eyes. I came into the care of Habitat 4 Paws as a feral kitten. I have made so much progress getting socialized and I am continuing to improve. Because of this, I'd do best with someone who has lots of patience and a quiet home as I can become easily frightened. Aside from that, I'm really quite a sweet, gentle girl. If you kneel down with your hand out and talk to me in a soft voice, I'll walk up to you happily, quivering my tail in anticipation of some attention. I really enjoy being petted and will readily purr for you. I'll even arch myself into your hand to get those great, extra deep scratches and I'll flop onto my side for some belly rubs. I also have a cute squeaky chirp to communicate how happy I am about getting attention. I also know when it's bedtime and I jump onto the bed to sit alongside my foster dad. I really like when the humans play with me with the wand toy and I also like batting around other kitty toys. I'm pretty good about using the cat scratchers and I do have perfect litterbox habits. I love my littermate and sister Tux so if we can't stay together then I would really do best in a home with another cat, but no dogs or young kids because there would probably be too much commotion. I am not going to be the easiest kitty, it's true. But I am still deserving of a happy home where I can feel safe and loved. Please think about taking a chance on me!
**Because we require home visits, we only adopt locally to the Dallas/Fort Worth area. For more on adoption policies, please see the How It Works page of our website, www.habitat4paws.org.