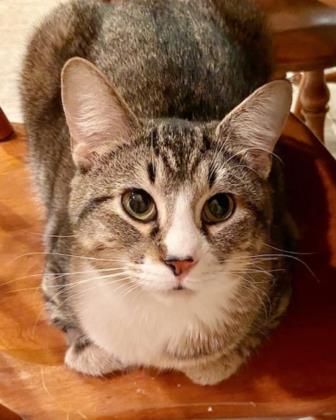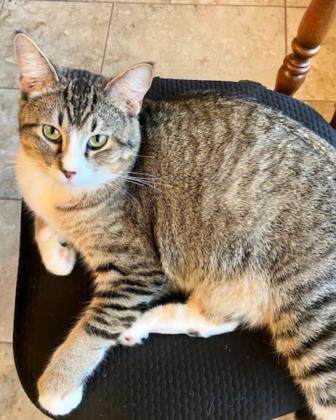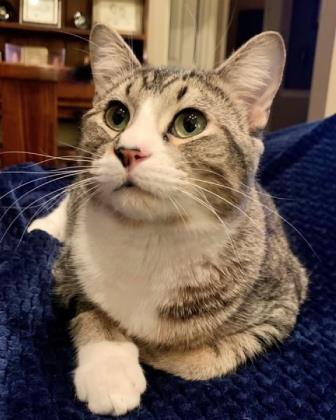 Click on images to enlarge
Hello feline lovers! My name is Ash and I think I am the cutest, sweetest, and snuggliest tabby boy you'll ever meet. You'll love my unique looking fur coat. Aside from my ultra-soft fur and my desire to be petted by you, here's some other fun facts about me: I am mainly grey and brown with some black stripes on my backside and have a white chest with 4 white "socks" on my paws; my pink triangle nose is outlined on 2 of it's 3 sides; my left front paw has one small pink pad while my right front has one dark pad. I was born in the care of my foster family, and I was supposedly the "runt", but now I am the largest one of the bunch! I eat special dry food that helps me to stay healthy. I have been around humans since birth and I love hanging out with them. I am quick to start purring if you pet me and I love to get your attention by "calling out" for you. I will also "chirp" when I am jumping up to be near you. If I am not napping or eating, then I am playing with one of my toys or looking for a stray pencil or ice cube to kick around on the tile. My favorite toy is the plastic curly Q. I get along famously with the other male cats in my house, and I use the litter box like a champ. I have not been around a dog but I'd probably be fine after sniffing them out. I cannot wait to meet and live the kitty "spa" life with my forever family. Is that you? If so, fill out an application on me today!
**Because we require home visits, we only adopt locally to the Dallas/Fort Worth area. For more on adoption policies, please see the How It Works page of our website, www.habitat4paws.org.